Last Updated : October 28, 2019 20:01
Combe Martin Sea Angling Club Secretary Nick Phillips won the clubs latest Open Match at Woolacombe beach with a fine bass of 10lb 1oz caught on the last cast of the competition.
The specimen bass seized a mackerel bait fifteen minutes before the end of the four hour match that attracted twenty keen anglers. The club organised the competition following the ongoing success of their Putsborough competition held each summer. Members had speculated that a match held during the autumn could offer the chance of a good specimen fish or two with ray and bass high on the agenda.
After a week of atrocious weather with strong winds and heavy rain the likelihood of the competition taking place was in question. But on the night the winds dropped along with the swell and even the rain ceased for the four hour duration of the match.
Anglers assembled at the booking in and anticipation was high as competitors ambled down the steep slopes to the vast expanse of Woolacombe Beach. A brisk breeze was blowing from the south east and a moderate surf surged against the sands. The next four hours passed and a range of species were brought to the shore including small eyed ray, small bass, turbot, whiting, codling, conger and the inevitable dogfish. The fishing was for most slower than hoped and spirits had slipped since the start with talk reflecting a lack of fish. As always though at the meet up to collate results a good few fish had been caught. At first it appeared that a dogfish could win the match despite the temporary raising of the specimen size for the competition to 3lb 8oz.
The announcement of Nicks 10lb 1oz bass brought a buzz of excitement and congratulations. The picture taken by Nicks son Jack was eagerly viewed by the huddle of tired anglers. The bass injected a much needed surge of enthusiasm ensuring that many will return to the beach again in search of that dream fish. A double figure bass is much sort after and many have not seen such a fish. I have witnessed several over the past fifty years but never been fortunate enough to actually land one. It is very high on my bucket list and is one of the goals that keeps me going. Autumn is the month if you want a double.
Results :-
1st Nick Phillips – Bass 10lb 1oz
2nd Mark Jones – dogfish – 2lb 4oz
3rd Wayne Thomas – dogfish 2lb 2oz
4th – Dan Miles Redmore – dogfish 2lb 1oz
Best ray – Dan Welch small eyed ray – 3lb 4oz
Fish of the season winner for the period July through to August is Robin Bond with a cracking Gilthead Bream of 5lb. Second place to Chay Boggis with his Smoothound of 15lb.
For the period March to May we have Kevin Legge with a Bull Huss of 13lb 9oz and then Mark Jones with anoth Huss of 13lb 6oz.
Fish of the season winner for December to February quarter is Ali Laird for his Tope of 39lb 12oz caught in December. He wins a £25 voucher to be spent in High Street Tackle Ilfracombe. Second was Mark Jones with a Thornback of 14lb 8oz and third again Ali Laird Conger of 25lb 10oz.
Our week long Lynmouth Maritime Festival aka Lynmouth Open was held the week running up to June 16th. Twenty anglers competed and the presentation was held at The Ancient Mariner at Lynmouth. The winner was James Gubb who caught a cracking boat caught Tope of 50lb and a Blonde Ray of 12lb 12oz combined giving him 210%. James was also presented with a special prize donated by Ardosia Slate for the best specimen of the week. Second place to Dan Welch for 200.208% and third to Rob Scoines.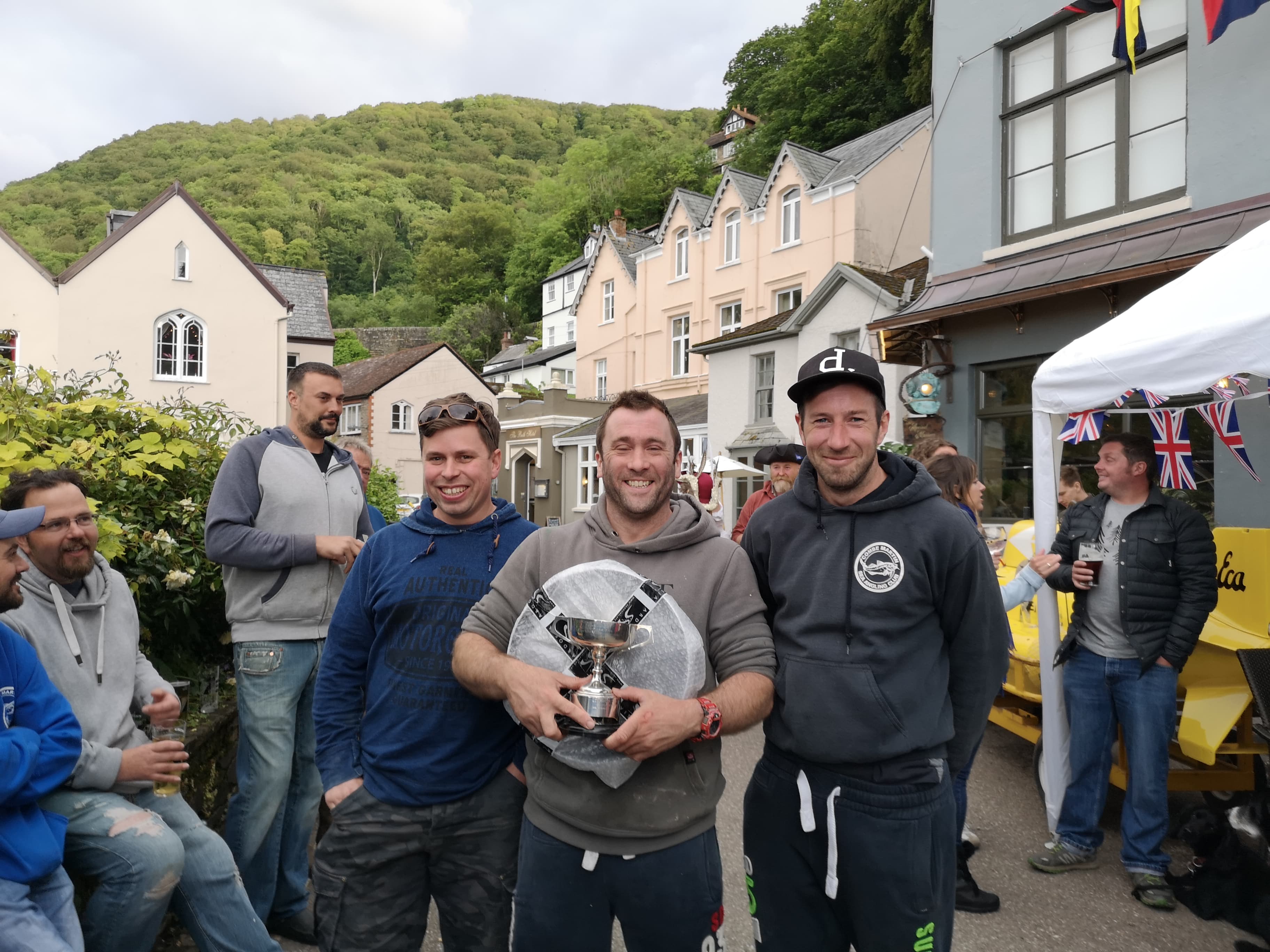 Our Putsborough competition took place on June 1st and was attended by 49 members and anglers in near perfect conditions. Many thanks to our sponsers Sakuma, High Street Tackle Ilfracombe and Chillcheaters of Braunton. Also many thanks to the owners and staff of Putsborough for allowing us to continue this popular event. See North Devon Angling News for full write up and pictures.
1st – Ian Laird – Small eyed ray – 8lb 8oz
2nd Dan Welch – Smoothound – 7lb 12oz
3rd -Louis Rooke – small eyed ray – 7lb 3oz
4th – Dan Welch- small eyed ray – 7lb 2oz
5th – Jonathon Stanway – small eyed ray – 7lb 1oz
6th – J. Mayhew – small eyed ray – 6lb 15oz
7th – Gary Andrews – small eyed ray – 6lb 14oz
8th – Ian Hooper – small eyed ray – 6lb 8oz
9th – Dan Welch – small eyed ray – 6lb 5oz
= Craig McCloughlin – small eyed ray – 6lb 5oz
10th – Craig McCloughlin – small eyed ray – 6lb 4oz
11th – Matt Jeffery – small eyed ray – 6lb 3oz
12th – Brian Retallick – bass – 4lb 14oz
13th – Dale Kiff – Small eyed ray – 6lb 1oz
The winner of the pool for the best brace was Dan Welch with a smoothound scaling 7lb 12oz and a small eyed ray of 7lb 2oz a total % of 148.906%
Our annual prize giving event The Presentation Night was held at The Ebrington Arms, Knowle on March 9th 2019 with many members and guests attending. Wayne also gave us his insight to his last twelve months in the form of his slide show which was greatly received. Many thanks to those who attended and to those who donated prizes for the raffle. Full report with photos in North Devon Angling News.
Our 2019 Calendar of Events is now available to download from the site.
Our Annual General Meeting has taken place at The White Lion, Braunton and was very well attended. Our officers ran though all their reports, re-elections and appointment of committee. Subscriptions remain the same, but OAP's now pay £5 membership. Some great ideas were discussed for next years calendar which should be available mid December.
Some changes to specimen sizes to place. Pollack (boat) down to 10lb, Spotted Ray (shore) down to 4lb 8oz, Thick Lipped Mullet (shore) up to 4lb 4oz and Thin Lipped Mullet (shore) up to 4lb. Please make a note of these sizes.
All species trophies will now include fish from both boat and shore.
Cod Trophy Rob Scoines Cod 12lb 4oz
Bass Trophy Ali Laird Bass 9lb 12oz
Mullet Cup Joshua Jeffery Thin Lipped 4lb 6oz
Conger Cup Kevin Legge Conger 28lb
Flatfish Cup Matt Jeffery Flounder 1lb 14 3/4oz
Shore Shield Kevin Legge Conger 28lb
Medway Cup Rob Scoines Spurdog 18lb 2oz
Ray Shield Jonathon Stanway Small Eyed 11lb 2oz
Specimen Shield Dan Welch 646.737%, Matt Jeffery 622.537% and Ali Laird 634.913%.
Burgess Trophy Joshua Jeffery Thin Lipped 4lb 6oz
Wrasse Trophy Ross Stanway Ballan Wrasse 4lb 7oz
Scouse Shield Rob Scoines Rockling 1lb 9oz
D Kyte Award John Shapland 6 Mullet to 631.411%
Merit Award Dan Welch
With immediate effect all meetings will resume at The Cricket Club, Braunton. Including Decembers competitions.
With that time of year approaching fast why not get the other half to have a look at our Merchandise page which is quite up to date and email me with your order.
Feel free to browse our website or more up to date information on our Facebook page.
Wayne has now stepped up a notch and created a interactive website encompassing all disciplines of angling in North Devon. An extension of his Journal column and above blog all rolled into one. A must for your bookmark ! Plus all your Combe Martin Sea Angling Club news.
Please stroll down to the bottom of the page for a link to "Casting Here And There" a guide to some fishing marks around the North Devon Coast.
New Specimen Size Lists are now available to download.
We are always after up to date images for our website, these can be emailed to me or Wayne.
Kevin Legge's Tope of 66lb.......and 66lb 8oz
I have at long last been able to get hold of Specimen Weight Percentage Tables which are invaluable to all anglers. Contact me for a copy. Priced at £7.00. Bargain.!
E-Newsletter for members only, make sure I have your email address to send to.
[ Just added British Rod Caught Record List to download in Specimen Form section on left ]
What if you catch a British Record Fish.... go here.. for advice from the Angling Trust.
Link To Casting Here And There - A Local Guide
(also "text only" available to download under Newsletters)